About Us
Afghan Star Charcoal Kebab House serves the most delectable and sumptuous Afghan Cuisine in town. We are conveniently located at 644 Port Road, Beverley SA. Bring home something new to your family and try our different Kebabs like Tikka, Qafqazi, Chicken and Mixed. Treat your friend with our house specialties like Bolani, Aash, Borani with Bread, Lam Tikka, Whole BBQ Chicken and Chicken Karahi that they will surely fall in love with. To complete your Afghan meal experience, try our Baklava and Jalebi for dessert. We offer hassle free pickup and delivery services for the convenience of our valued customers. Click that Order Online button now!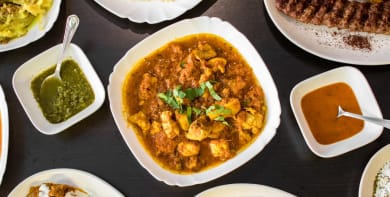 Reviews
Cassie
"Food was fine. I didn't get what I ordered though."
1/05/2021
Kevin
"Delicious food at my front door 20 minutes after order confirmation."
27/03/2021
Menu
Contact Us
Find Us
644 Port Road, Beverley, 5009
Opening Hours
Monday
11:00 AM - 10:40 PM
Tuesday
11:00 AM - 10:40 PM
Wednesday
11:00 AM - 10:40 PM
Thursday
11:00 AM - 10:40 PM
Friday
11:00 AM - 10:40 PM
Saturday
11:00 AM - 10:40 PM
Sunday
11:00 AM - 10:40 PM
Please note, delivery times may vary.
We deliver to
5000 Adelaide, 5006 North Adelaide, 5007 Bowden, 5007 Brompton, 5007 Hindmarsh, 5007 Welland, 5007 West Hindmarsh, 5008 Croydon, 5008 Croydon Park, 5008 Devon Park, 5008 Dudley Park, 5008 Renown Park, 5008 Ridleyton, 5008 West Croydon, 5009 Allenby Gardens, 5009 Beverley, 5009 Kilkenny, 5010 Angle Park, 5010 Ferryden Park, 5010 Regency Park, 5011 St Clair, 5011 Woodville, 5011 Woodville Park, 5011 Woodville South, 5011 Woodville West, 5012 Athol Park, 5012 Mansfield Park, 5012 Woodville Gardens, 5012 Woodville North, 5013 Gillman, 5013 Ottoway, 5013 Pennington, 5013 Rosewater, 5013 Wingfield, 5014 Albert Park, 5014 Alberton, 5014 Cheltenham, 5014 Hendon, 5014 Queenstown, 5014 Royal Park, 5015 Birkenhead, 5015 Ethelton, 5015 Glanville, 5015 New Port, 5015 Port Adelaide, 5019 Exeter, 5019 Semaphore Park, 5019 Semaphore South, 5020 West Lakes Shore, 5021 West Lakes, 5022 Grange, 5022 Henley Beach, 5022 Tennyson, 5023 Findon, 5023 Seaton, 5024 Fulham, 5024 Fulham Gardens, 5025 Flinders Park, 5025 Kidman Park, 5031 Mile End, 5031 Mile End South, 5031 Thebarton, 5031 Torrensville, 5032 Brooklyn Park, 5032 Lockleys, 5032 Underdale, 5033 Cowandilla, 5033 Hilton, 5033 Marleston, 5033 Richmond, 5033 West Richmond, 5035 Keswick, 5035 Keswick Terminal, 5037 Netley, 5081 Medindie, 5082 Fitzroy, 5082 Ovingham, 5082 Prospect, 5082 Thorngate, 5084 Blair Athol, 5084 Kilburn, 5094 Dry Creek, 5950 Adelaide Airport